Study, Work and Live Abroad – PFL Education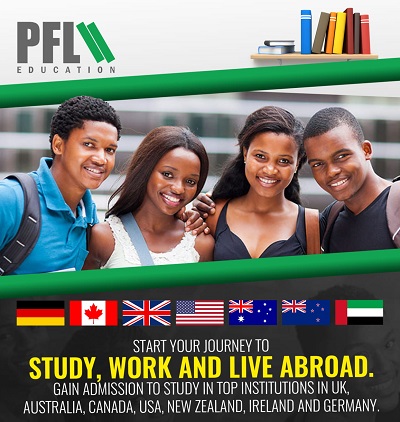 Give your self the PFL Edge in your plan to study abroad.

PFL is one of the fastest growing British owned international education consultancy services in Nigeria. Our staff are highly knowledgeable and efficient to give help and guidance to all who wish to study in countries where we have partner institutions.
We are a multinational company operating in 5 continents of the world, i.e. Asia, Europe,  Australasia, Africa and America having agreements with over 160 universities worldwide. Our strategically located offices across Nigeria combine state of the art facilities, excellent IT operations and high quality talent.
With our over 22 years on the field as the oldest agency in Nigeria and 95% visa success rate, we are committed to providing high quality, value for money, independent and professional services.
As a responsive organization, we consider the peculiarity of our Nigerian audience in selecting our most preferred partners. We are aware that our Nigerian clients among other things appreciate the opportunity to work in their study destinations while they study. Our international students from Nigeria also love to take advantage of post study work experience and are more fascinated when there is a clear path to achieving permanent resident status in their study destination.
Other considerations are: affordability, cultural heterogeneity which allows them to thrive without cultural barriers and finally, the opportunity to have fun regardless of the situation. With all these in mind we have secured partnership with high ranked institutions in destinations where you can have it all.

Do you plan to study in Australia, Canada, Malaysia, Newzealand, UK, USA or elsewhere?