SCHOLARSHIP: University of Alberta, Canada Undergraduate, Masters and PhD Scholarship 2023/2024 |APPLY NOW|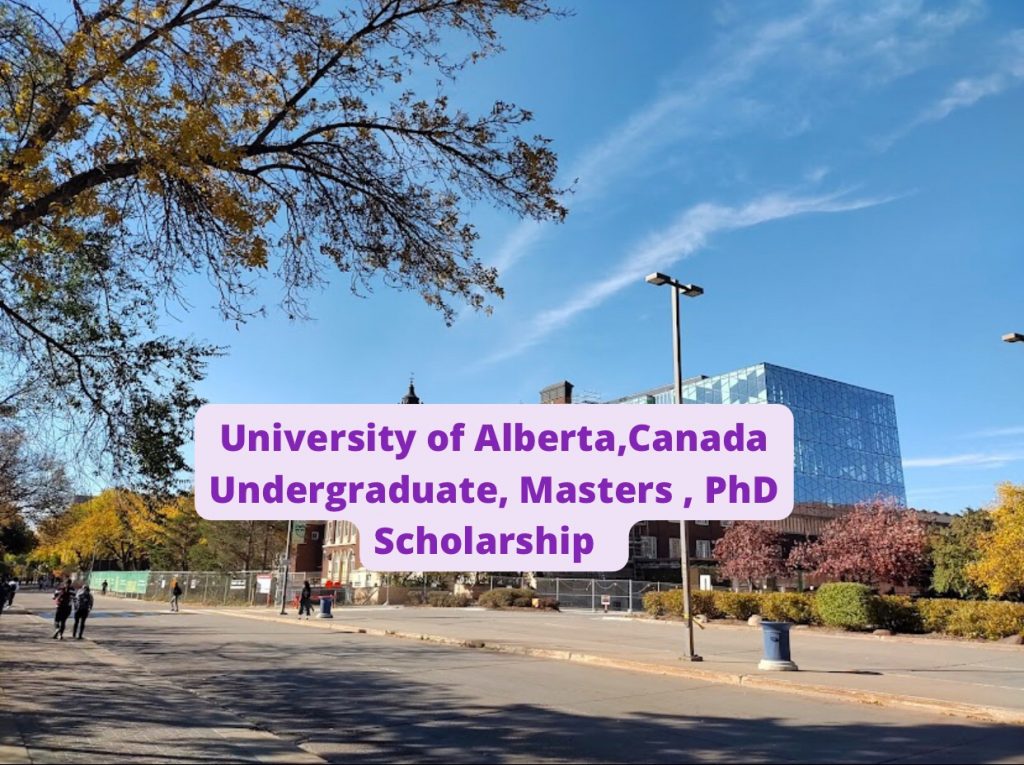 University of Alberta , Canada has opened it's scholarship opportunity for interested applicants who are willing to pursue their Undergraduate, Masters and PhD scholarship at the university. These Scholarships are available for Bachelors and Graduate degree programs. No need to apply separately for these scholarships. University automatically considered for this scholarship after getting admission.
Scholarship Deadline:
There are four intakes every year for international students to apply for University of Alberta Scholarships in Canada. Deadline for each intake is given below:
July 1 for September admission (annual)
November 1 for January admission(annual)
March 1 for May admission(annual)
May 1 for July admission(annual)
Scholarship Details:
University or Organization: University of Alberta
Department: NA
Course Level: Undergraduate , Masters and PhD
Award: Fully Funded Scholarship
Number of Awards: NA
Access Mode: Online
Nationality: International
The award can be taken in Canada
Scholarship Eligibility :
Applicants with any nationality are eligible to apply for Alberta Scholarships.
To apply for Bachelors Degree, you must have High School Certificate.
For Masters Degree you must hold Undergraduate Degree.
To get admission in PhD Degree, Masters Degree certificate is required.
Available Courses :
Alberta University offers more than 200 Bachelors Degree Programs, 500 Postgraduate Degree Programs and others. Detail is given below:
Nursing
Pharmacy and Pharmaceutical Sciences
Medicine & Dentistry
Science
Engineering
Law
Social Sciences
Alberta School of Business
Fine Arts and Humanities
Education
Native Studies
Public Health
Agricultural Life and Environmental Sciences
Rehabilitation Medicine
Science
Check Bachelors Degree Programs (Click Here)
Check Graduate Degree Programs (Click Here)
Scholarship Benefits:
International Student Scholarships:
New first year students of undergraduate degree programs are eligible for these scholarships having Student Visa Permit. These scholarships have a value of up to $9,000 which is payable for four years.
Gold Standard Scholarship:
Top 5% students in academic achievements are eligible for these scholarships having value of up to $6,000.
Doctoral Recruitment Scholarship:
These scholarships are designed for PhD students to meet their fee requirements having value of $5,000/Year.
Masters Degree Entrance Scholarship:
Masters Degree students will receive a Stipend of $17,500 while International candidates will get an additional amount of $10,000 cover fee.
Graduate Excellence Scholarship (AGES):
Masters and Doctoral Degree Students can get an award of $15,000 to meet their expenses.
To get more information about Bachelors Degree Scholarships (Click Here and Click Here). To know more about Graduate Scholarships (Click Here).
Application guidelines :
Applicants can apply Online for University of Alberta Scholarships 2023 in Canada. Fill the application form and upload the necessary documents in the link below.