SCHOLARSHIP: University of Edinburg, UK Masters Scholarship 2023/2024 |APPLY NOW|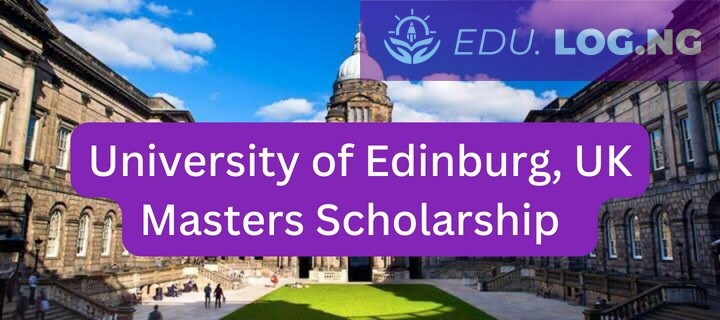 The university of Edinburg has opened its Edinburgh Surgery Online Global Scholarships for qualified medical students interested in studying in the university. The University of Edinburgh will offer the scholarships for online learning programmes to interested individuals who are want to pursue a masters program at the Institution. Each scholarship will cover full tuition fees, subject to satisfactory progress, with consideration being given to a contribution towards the cost of internet access, printing, and project costs.
Scholarship Deadline:
1st June 2023
About School:
The University of Edinburgh is a public research university based in Edinburgh, Scotland. Founded by the town council under the authority of a royal charter of King James VI in 1582 and officially opened in 1583, it is one of Scotland's four ancient universities and the sixth-oldest university in continuous operation in the English-speaking world.
Scholarship Details:
University or Organization: University of Edinburg
Course Level: Masters
Awards: Full Tuition fee waiver & stipend
Number of Awards: Not Specified
Access Mode: Online
Nationality: International
The award can be taken in the UK
Scholarship Eligibility:
The scholarships will be awarded to applicants who are accepted for admission on to the MSc Surgical Sciences (Online Learning) and ChM (Online Learning) General Surgery, Urology, Trauma & Orthopaedics, Vascular & Endovascular.
Applicants must be residents in Africa, South Asia, Caribbean Islands, Pacific Islands or Central and South America.
Scholarship Application Guidelines:
Basic Medical Degree (MBChB or equivalent), as recognised by the General Medical Council.
Final Degree Transcript for your basic medical degree. This is an official University document, normally though not always issued at the same time as the degree is awarded. It lists all the courses and grades you received during your degree.
Details of one referee. You will be given the opportunity to enter your referee's email address on the online form; the system will then email your referee automatically.
A personal statement confirming you are continuing your learning in a supervised clinical environment.
Evidence of English language. If you are not from an English speaking country (as defined by UK Visas & Immigration), you will need to provide evidence of your proficiency, such as an IELTS or TOFEL certificate.
Complete a EUCLID application – instructions on full application process can be found here: Edinburgh Surgery Online Courses Await feedback on application
If eligible to join the course, you will be given a conditional offer, which you must accept.
Complete the online application form for an Edinburgh Surgery Online Global Scholarship
Scholarship Benefits:
Each scholarship will cover full tuition fees, subject to satisfactory progress, with consideration being given to a contribution towards cost of internet access, printing and projext costs.