SCHOLARSHIP: University of Winnipeg, Canada Scholarship 2023/2024 |APPLY NOW|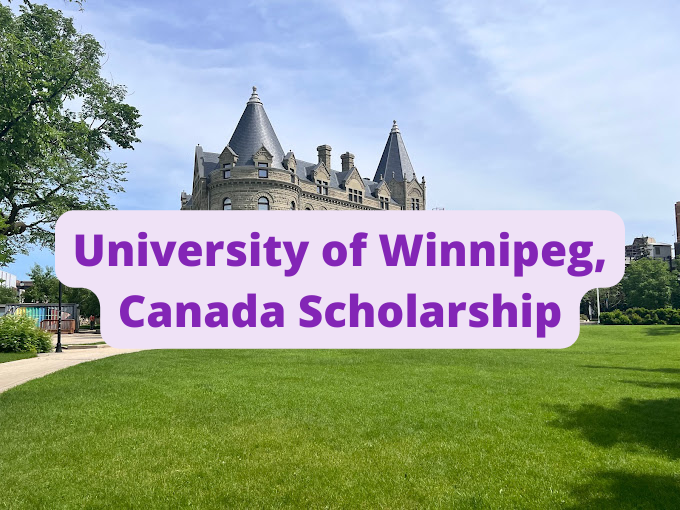 The University of Winnipeg , Canada has opened it's President's Scholarship for World Leaders scholarship opportunities for the year 2023/2024 for interested applicants who want to pursue their  Undergraduate, Graduate and Collegiate, PACE or ELP studies at the university. The scholarship award is for international students.
Scholarship Deadline:
Deadlines are as the following:
Undergraduate: Spring/Summer 2023 – April 1, 2023
Graduate: June 1, 2023
Collegiate: June 1, 2023
PACE: Spring/Summer 2023 – March 1, 2023, for fall 2023 – June 1, 2023, For Winter 2024 – October 1, 2023
ELP: Spring/Summer 2023 – February 1, 2023, Fall 2023 – April 1, 2023, Winter 2024 – August 1, 2023
About School:
The University of Winnipeg is a public research university in Winnipeg, Manitoba, Canada, that offers undergraduate faculties of art, business and economics, education, science and kinesiology and applied health as well as graduate programs. The University of Winnipeg was established in 1967 when United College received its charter. The governance was modeled on the provincial University of Toronto Act of 1906 which established a bicameral system of university government consisting of a senate (faculty), responsible for academic policy, and a board of governors (citizens) exercising exclusive control over financial policy and having formal authority in all other matters. The president, appointed by the board, was a link between the bodies to perform institutional leadership.
Scholarship Description:
University or Organization: University of Winnipeg
Department: All
Course Level: Undergraduate, Graduate, Collegiate, PACE or ELP
Award: $3,500 to $5,000
Access Mode: Online
Number of Awards: 18
Nationality: International
The award can be taken in Canada
Scholarship Eligibility:
Eligible Countries: All nationalities
Acceptable Course or Subjects: The scholarship will be awarded in any of the University's divisions for the first time: Undergraduate, Graduate, Collegiate, PACE, or ELP.
Admissible Criteria: To be eligible, the applicants must meet all the following criteria:
Be an international student
Entering the first year of any program/school
Have a minimum of 80% admission average or equivalent
Demonstrate exceptional leadership qualities
Admitted to the University by the scholarship deadline
Scholarship Application Guidelines:
How to Apply: All applicants must submit the following forms:
Complete an application for admission into the University of Winnipeg.
Complete the web application form for the scholarship.
Supporting Documents: These are the required documents (uploaded in one PDF file) applicants must include with this application. Applicants make sure all documents are translated into English if in another language.
Personal Statement
Resume/CV
Two Reference Letters
Admission Requirements: All applicants must begin their application for admission first in order to be assigned an UWinnipeg student ID number. Visit the Admissions page to begin their admission process or email welcome@uwinnipeg.ca. Check the full criteria of entry requirements by country.
Language Requirement: Students must have a level of ability in English that allows them to participate in all aspects of university study. Check the full criteria of English language proficiency.
Scholarship Benefits:
6 Undergraduate scholarships – $5,000
3 Graduate Scholarships – $5,000
3 Collegiate Scholarships – $3,500
3 Professional, Applied Continuing Education (PACE) Scholarships – $3,500
3 English Language Program (ELP) Scholarships (14-week full-time program only) – $3,500