SCHOLARSHIP: Meredith College, USA Undergraduate Scholarship 2024/2025 |APPLY NOW|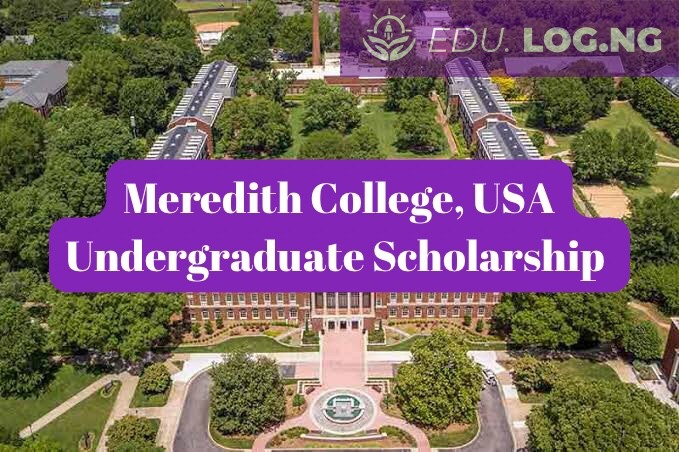 Scholarships are available for international students who want to undergo their undergraduate studies at Meredith College , USA. The Meredith College scholarship covers tuition, housing, and other college-wide costs for foreign full-time honors program students at Meredith College who maintain a minimum quality point ratio of 3.30 across all courses. After submitting an application for admission, students must be chosen for the scholarship interview in order to be eligible.
Scholarship Deadline:
The application is open . However, applicants are recommended to observe program-specific application deadlines.
About University :
Meredith College is a private women's liberal arts college and coeducational graduate school in Raleigh, North Carolina. As of 2021 Meredith enrolls approximately 1,500 women in its undergraduate programs and 300 men and women in its graduate programs.
Along with license, graduate, and pre-professional programs, Meredith offers 38 majors. The most common majors are psychology, biology/biological sciences, business administration and management, child development, and social work, according to U.S. News & World Report.
Students can earn a Bachelor of Arts, Bachelor of Science, Bachelor of Music, or Bachelor of Social Work after completing their undergraduate major. Coeducation is allowed at the John E. Weems Graduate School.
Scholarship Details:
Scholarship Eligibility Requirement:
All international students are eligible to apply for the Meredith College Scholarship.
Students can apply for honor programs offered at Meredith College.
To be eligible for the Meredith College Scholarship, applicants must meet all the following criteria:

All applicants must be first-year students.
The applicants must have superior academic achievement, intellectual promise, and leadership ability.
Scholarship Application Guidelines :
The applicants must apply for admission via the university portal. All eligible students will be notified about the interview for the scholarship and be considered accordingly.
The students are required to present the following documents to the university:

Official copy of the secondary school record.
A school official recommendation and an academic teacher recommendation
Academic transcripts.

The applicants must meet the Honours Program requirements of Meredith College.
The students must submit scores from the following English language proficiency tests:

TOEFL IBT: 79
TOEFL CBT: 213
IELTS: 6.0
Duolingo: 100
Scholarship Benefits
The successfully selected applicants will be provided full tuition, on-campus room and board, and college-wide fees (for four academic years). The Meredith College Scholarship will also provide course-required books, fees, and supplies, opportunities for a study abroad experience, and annual travel opportunities.