SCHOLARSHIP: Obama Foundation Scholarship at Columbia University, USA 2024/2025 |APPLY NOW|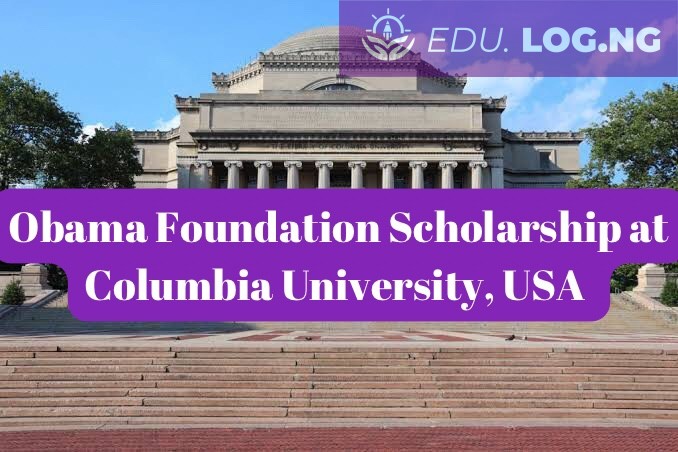 Application is now open for the fully funded Obama Foundation Scholarship 2024/2025. The Scholarship is an initiative of the University of Columbia through Columbia World Projects targeting young and energetic people across the globe who can take up the challenge of studying at Columbia University and in return contribute to the development of their communities.
Scholarship Deadline:
12 December 2023
About University:
Columbia University, officially titled as Columbia University in the City of New York, is a private Ivy Leagueresearch university in New York City. Established in 1754 as King's College on the grounds of Trinity Church in Manhattan, it is the oldest institution of higher education in New York and the fifth-oldest in the United States
Scholarship Details:
Scholarship Eligibility Requirement:
The Obama Foundation Scholars Program at Columbia University seeks rising leaders from around the world who meet the following criteria:
Have a proven commitment to service and leadership within a community, region or country outside the United States, coupled with a demonstrated commitment to return to these communities following their completion of the program and apply their enhanced training, skills and connections on a long-term basis for the benefit of these communities
Are emerging leaders who have made meaningful contributions to their field and are now at a "tipping point" in their careers
Have the ability and inclination to positively shape the future of their community
Have a demonstrated commitment to humility, integrity, inclusivity, stewardship, fearlessness, imagination and teamwork
Are fluent in English (verbal, written and spoken)
Scholarship Application Guidelines:
To apply for the Obama Foundation Scholars Program 2024-2025, applicants are to: complete the online application form and submit the following materials:
Resume/curriculum vitae: The resume/curriculum vitae should be a chronological listing of your employment and academic history, and other significant activities, including any awards, publications, or other achievements․
Personal video statement: The personal video statement should be a short video (no longer than five minutes in length) introducing the applicant and their work to the selection committee. Applicants will upload their video statement to a video hosting service, like YouTube or Vimeo, and will include a link to their video in the online application. Additional information on the requirements for the personal video statement can be found in the online application.
Responses to short essay questions: The short essay questions help the selection committee understand the applicant's work, their motivation and how the program fits into their career trajectory. Applicants will submit their essay questions in the online application.
Scholarship Benefits:
Monthly stipend to assist with living expenses in New York City.
A furnished studio apartment within walking distance of Columbia University
All tuition and fees for up to four courses at Columbia University
Basic medical, dental and life insurance for the duration of the program in New York City
Air travel to and from home country and any program-related activities