SCHOLARSHIP: Michigan State University, USA Graduate Research Assistant Scholarship 2024 |APPLY NOW|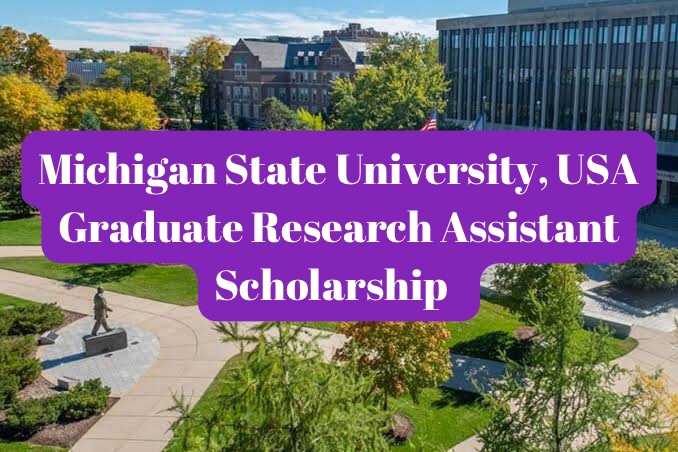 Michigan State University is seeking a highly motivated and qualified individual to join our team in the field of animal science.
The successful candidate will have the opportunity to work on research projects aimed at nutritional interventions in animal health and physiology, with a focus on evaluating dietary effects on pig health to investigate antibiotic alternatives.
The position includes a graduate stipend, tuition waiver and health insurance benefits.
Scholarship Deadline:
31st December 2023
About School:
Michigan State University is a public land-grant research university in East Lansing, Michigan. It was founded in 1855 as the Agricultural College of the State of Michigan, the first of its kind in the United States. After the introduction of the Morrill Act in 1862, the state designated the college a land-grant institution in 1863, making it the first of the land-grant colleges in the United States. The college became coeducational in 1870. In 1955, the state officially made the college a university, and the current name was adopted in 1964. Today, Michigan State has rapidly expanded its footprint across the state of Michigan with facilities all across the state and one of the largest collegiate alumni networks with 634,000 members.
The university's six professional schools include the College of Law (founded in Detroit, in 1891, as the Detroit College of Law and moved to East Lansing in 1995), Eli Broad College of Business; the College of Nursing, the College of Osteopathic Medicine (the world's first state-funded osteopathic college),the College of Human Medicine, and the College of Veterinary Medicine. The university pioneered the studies of music therapy,packaging, hospitality business, supply chain management, and communication sciences.
Scholarship Details:
Scholarship Eligibility Requirement:
To be considered for the scholarship, you must:
Bachelor's degree in animal science, nutrition, biology, or related fields
Strong academic record (GPA 3.0 or higher)
Ability to work independently and collaboratively as part of a team
Scholarship Application Guidelines:
Interested candidates should send
a cover letter summarizing their interests in the position and qualifications,
a CV, and
names and contact information for three references (and letters if available) to Dr. Kwangwook Kim (kkim@msu.edu).
Applications will be reviewed on a rolling basis until the position is filled.
Scholarship Benefits:
graduate stipend,
tuition waiver and
health insurance benefits.