SCHOLARSHIP: Swansea University, UK Undergraduate and Masters Scholarship |APPLY NOW|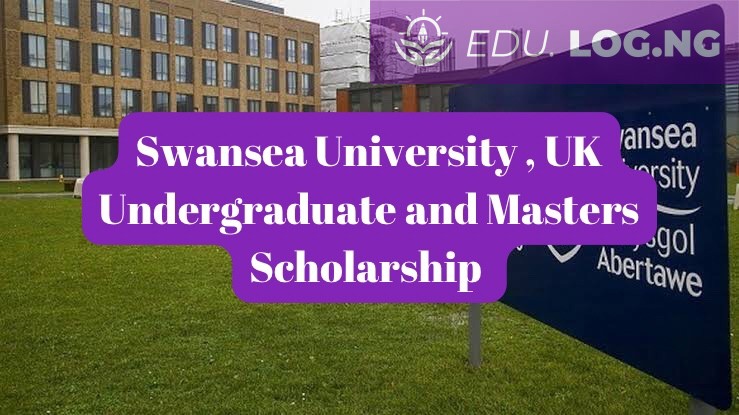 Scholarship opportunities are available at Swansea University. Swansea University established the International Excellence Scholarships to support international students studying in the UK. The application period for the academic year 2024 is currently open.
This Scholarship is given to Undergraduate and graduate students who have shown academic distinction or the ability to do so throughout their stay at Swansea University. The Swansea University Scholarship are given as a tuition discount.
Scholarship Deadline:
Applications must be received by January 2024.
About University:
Swansea University is a public research university located in Swansea, Wales, United Kingdom. It was chartered as University College of Swansea in 1920, as the fourth college of the University of Wales. In 1996, it changed its name to the University of Wales Swansea following structural changes within the University of Wales. The title of Swansea University was formally adopted on 1 September 2007 when the University of Wales became a non-membership confederal institution and the former members became universities in their own right.
Swansea University has three faculties across its two campuses which are located on the coastline of Swansea Bay. It is the third largest university in Wales in terms of number of students. It offers about 450 undergraduate courses, 280 postgraduate taught and 150 postgraduate research courses to 20,375 undergraduate and postgraduate students.
Scholarship Details:
University Name: Swansea University
Course Level: Undergraduate and Masters
Award: £6,000
Access Mode: Online
Nationality: International
The award can be taken in the UK
Scholarship Eligibility Requirements:
All nationalities students are eligible for Swansea University Scholarship.
The scholarship will be awarded in any subject offered by the university.
To be eligible for Swansea University Scholarship, the applicants must meet all the following criteria:

Applicants must be non-UK nationals and classed as overseas fee payers. If the fee status of the applicant changes after the scholarship application is made, then the University will need to remove the scholarship.
Applicants must have demonstrated excellence in their academic performance to date and be able to show what they will achieve at Swansea University in their application.
Students on B.Sc, B.A, B.Eng, L.L.B, M.Eng, M.Sci, M.Sc, M.Pharm, M.B.B.Ch, M.A, L.L.M, and M.Res (not the same as Masters by Research) are eligible.
Applicants must have applied for and received an offer to study at Swansea University at the Undergraduate or Master's level.
Scholarship Application Guidelines:
How to Apply: The applicants are required to submit an admission application on the application portal at Swansea University. Once you are ready to apply, please complete the relevant application form and return it to ido@swansea.ac.uk
Supporting Documents: Applicants must submit transcripts of previous studies and a copy of their passport.
Admission Requirements: The applicants must meet the program requirements they wish to apply for Swansea University Scholarship.
Language Requirement: You can generally meet the English proficiency requirements for entry to Swansea University.
Scholarship Benefits:
Swansea University Scholarship will provide up to £6,000 (£4,000 awarded in Year 1 and £2,000 awarded in Year 2 subject to achieving a 70% average) for brilliant students in the UK for the academic year 2024.