SCHOLARSHIP: Boise State University, USA Graduate Scholarship 2024 |APPLY NOW|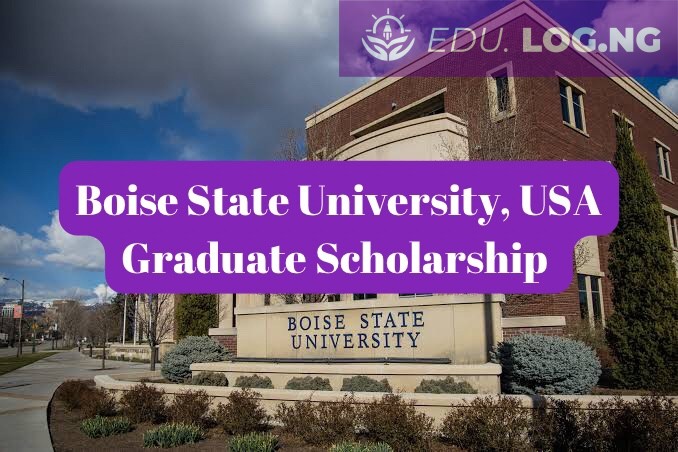 The Boise State University Scholarship is providing exceptional opportunities for students through its Graduate Assistant ship at the College of Business and Economics for the academic year 2023–2024 and it is open to international students who want to study for a graduate degree at Boise State University (BSU). The Boise State University Scholarship has a $9,400 value.
Scholarship Deadline:
GA Application Deadline for Fall GAship: March 1
GA Application Deadline for Spring GAship: Oct 1
About University :
Boise State University is a public research university in Boise, Idaho. Founded in 1932 by the Episcopal Church, it became an independent junior college in 1934 and has been awarding baccalaureate and master's degrees since 1965. It became a public institution in 1969. Boise State offers more than 100 graduate programs, including the MBA and MAcc programs in the College of Business and Economics; master's and PhD programs in the Colleges of Engineering, Arts & Sciences, and Education; MPA program in the School of Public Service; and the MPH program in the College of Health Sciences.
Scholarship Details:
Scholarship Eligibility Requirement:
Eligible Countries: All nationalities
The Boise State University Scholarship will be awarded in any subject offered by the university.
To be eligible for the Boise State University Scholarship, the applicants must meet all the following criteria:

Be fully admitted to their degree program.
Attend full-time (9–12 graduate credits) during the award
Scholarship Application Guidelines:
The students must sign up to the application portal of BSU to apply. After that, complete and submit this Graduate Assistantship form.
Attach a statement of purpose, resume, or CV. Choose the document type from BSU.
Aspirants must fulfill the requirements for their graduate degree at the university.
Academic courses at Boise State are taught in English, and international graduate students must demonstrate appropriate levels of English proficiency to be admissible to a degree program.
TOEFL
IELTS and IELTS Indicator: 6.5
Scholarship Benefits:
The Boise State University Scholarship will provide all tuition and fees, and pays a stipend of approximately $9,400 for the academic year for the students in the USA.