SCHOLARSHIP: University of Cambridge, UK Mastercard Postgraduate Scholarship 2024 |APPLY NOW|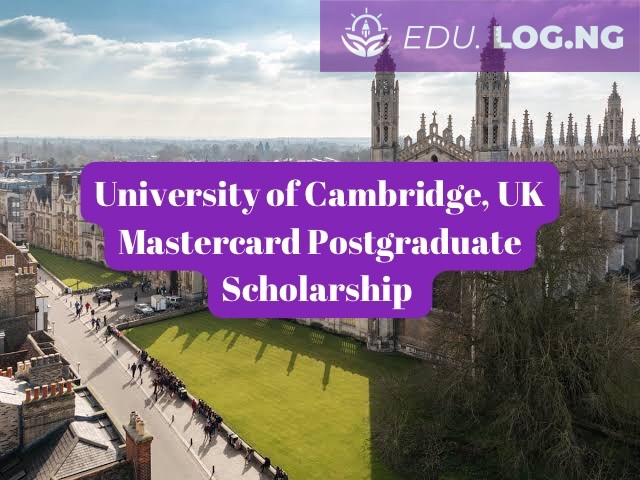 University of Cambridge Mastercard Scholarship is designed to provide talented students from Africa with fully funded opportunities to complete their master's training, grow in transformative leadership, and contribute to climate resilience and sustainability in Africa and the world at large. The programme offers scholarships which span the full range of across disciplines in Cambridge except for the following business courses: Master of Business Administration (MBA), Master of Corporate Law (MCL), Master of Finance (MFin).
Scholarship Deadline:
5th January 2024
About School:
The University of Cambridge is a public collegiate research university in Cambridge, England. Founded in 1209, the University of Cambridge is the world's third-oldest university in continuous operation. The University of Cambridge includes 31 semi-autonomous constituent colleges and over 150 academic departments, faculties, and other institutions organised into six schools. All of the colleges are self-governing institutions within the university, managing their own personnel and policies, and all students are required to have a college affiliation within the university. Undergraduate teaching at Cambridge is centred on weekly small-group supervisions in the colleges with lectures, seminars, laboratory work, and occasionally further supervision provided by the central university faculties and departments.
Scholarship Details:
University Name: University of Cambridge
Course Level: Masters or Postgraduate
Award: Full Scholarship | Accommodation | Monthly Stipends
Access Mode: Online
Nationality: African
The award can be taken in the UK
Scholarship Eligibility Requirement:
To be eligible for this scholarship you Must be a citizen of an African country,
Must be ordinarily resident in an African country unless you can show temporary absence for study/work with an intention to return, or unless you have been displaced.
Must be applying for a Master's course of up to one year in length, at the University of Cambridge.
Scholarship Application Guidelines:
The Application process commences with an application for admission to the University of Cambridge via the course directory, to be completed by the funding deadline of the course. https://www.postgraduate.study.cam.ac.uk/courses
The deadline for submitting applications for funding is the 5th of December 2023 for courses with a 5th of December deadline and 5th of January 2024 for courses with a 5th of January deadline. When making an application, pay close attention to the funding deadline.
For any application related inquiries, please check the FAQ section of the website. If the response to your query is not resolved from the available responses, please email admin@mastercardfoundation.fund.cam.ac.uk.
As part of the application process, prospective scholars will be required to provide a supplementary statement that indicates their personal commitment to contributing to climate-resilient and sustainable futures for Africa.
Timeline:
Applications open: 1 September 2023
Application and Funding deadline: Depending on your course – either early December 2023 or early January 2023
Departmental academic assessment: December 2023 – February 2024
Mastercard Foundation Scholars selection: Late February 2024
Scholarships offered: March 2024
Scholarship Benefits:
Full Scholarship
Accommodation
Monthly Stipends
Airfare Tickets