SCHOLARSHIP: Abertay University, UK Postgraduate Scholarship 2024 |APPLY NOW|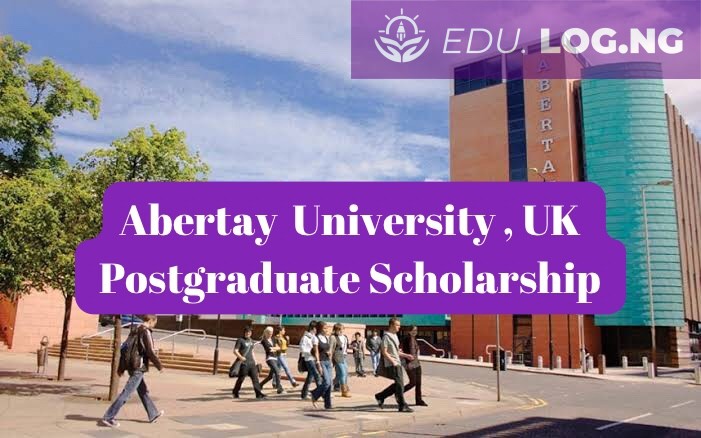 Scholarship opportunities are available for interested applicants who want to pursue their postgraduate studies at Abertay University, UK . The scholarship is open for international students to study for Postgraduate degree programs for the academic year of 2024. Successful applicants of Abertay Scholarships will receive the award of £3,000. In January and April, the reward amount is paid in equal monthly installments. The award amount will be deducted from the tuition costs of successful candidates. Applicants from all around the globe are eligible to apply for the Abertay Scholarship in Austria.
Scholarship Deadline:
Applications must be submitted by 15 December for February entry (the deadline is 30 November if you need a Tier 4 visa).
Applications must be submitted by 30 April for June entry (the deadline is 31 March if you need a Tier 4 visa).
Applications must be submitted by 31 August for October entry (the deadline is 31 July if you need a Tier 4 visa).
About University:
The Abertay University is located in Dundee, Scotland, United Kingdom. It was founded in 1994 and is a well-established institution in the UK. It is well known for its commitment to academic excellence and innovation. Abertay University offers scholarships in various academic disciplines including business, computing, arts, science, and social sciences.
Scholarship Details:
Scholarship Eligibility Cri:
To be eligible for International Postgraduate Abertay Scholarships must fulfill the following eligibility criteria:
The required study language is English. The University typically requires them to submit proof of their ability to communicate at a higher level in English from applicants whose first language is not English.
International applicants from all world countries are eligible to apply.
Those applicants are not eligible who already hold a UK postgraduate degree.
Applicants must have enrolled at Abertay University as full-time postgraduate students for their first degree.
Applicants must have fulfilled all of the academic requirements associated with their admission offer to register themselves as a full-time student in September 2024 or January 2025.
To be eligible to apply for postgraduate studies with a GPA of at least 60% and a degree that is at least the equivalent of a UK 2:1 Bachelor's degree.
Postgraduate students who are enrolled right now or Abertay graduates are not eligible for this award.
Scholarship Application Guidelines:
First of all, choose one of the offered degree programs.
Apply for the selected degree program from the official link. Sign up on the official portal by creating your new account. Fill out the application form and upload all the required documents then submit your form.
They will email you to let you know whether you are selected for an Abertay International Scholarship if you meet all of the requirements and are accepted for study. Once you have received your Abertay study offer, please keep an eye on your mailbox. If you have any questions about the rewards, you can write Doug Watters at international@abertay.ac.uk.
Scholarship Benefits:
The recipients of the Abertay University Scholarship will receive the award of £3,000. The award value is paid in two equal installments. One in January and the second in April.