SCHOLARSHIP: University of Waterloo , Canada Masters and PhD Scholarship 2022/2023 |APPLY NOW|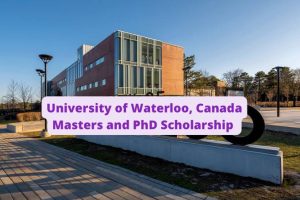 University of Waterloo , Toronto Canada is offering postgraduate scholarship I.e masters and PhD scholarship to international students through the Ontario Graduate Scholarship (OGS) and the Queen Elizabeth II Graduate Scholarship in Science and Technology (QEII-GSST) . The fully funded scholarship is worth up to $15,000 paid per year or $5,000 paid per term throughout the years or terms of study.
Scholarship Deadline :
30th September 2022
Scholarship Details :
University or Organization: University of Waterloo
Department: NA
Course Level: Masters and PhD
Award: $15,000
Number of Awards: NA
Access Mode: Online
Nationality: International
The award can be taken in Canada
Scholarship Eligibility:
To be considered for the OGS and QEII-GSST Scholarships, you must:
Be an international student (for the international scholarship)
Be a Canadian citizen, Permanent Resident, or Protected Person under subsection 95(2) of the Immigration and Refugee Protection Act of Canada (for domestic scholarship)
Have achieved a first-class average (minimum of A-/80%)
Be a research-based graduate in a STEM discipline only in Science, Technology, Engineering and Math (for the QEII-GSST scholarship)
Scholarship Documents :
To apply, candidates must be ready to submit the following documents;
Application Form (to be completed online)
Academic transcripts
Research proposal
Reference letters (from two academic references)
Scholarship Benefits:
The Scholarship will last for a maximum of two academic years for Master's students, and
Maximum of four academic years for doctoral students
Recipients can hold the scholarship for a minimum of two terms (receiving $10,000 total) or three terms (receiving $15,000 total)
How to Apply
Applicants will be considered under three evaluations; Academic Excellence, Research Ability and Potential in Program of Study, and Communication and Leadership Abilities.
Interested and qualified candidates should apply using the link below.