SCHOLARSHIP: American University, USA Undergraduate Scholarship |APPLY NOW|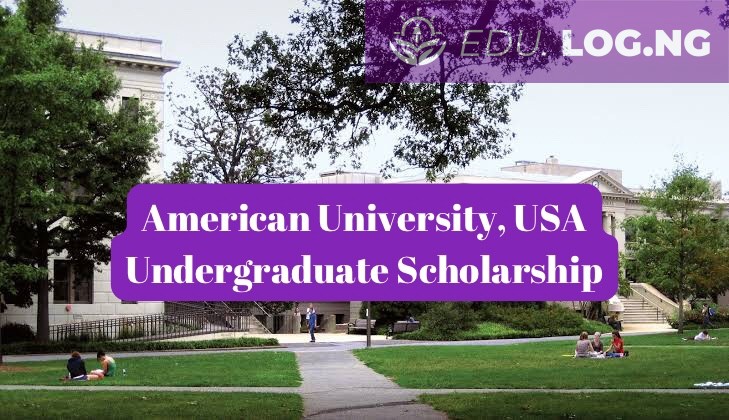 American university is inviting international students to apply for the Emerging Global Leaders Scholarships, which are fully funded. The AU Emerging Global Leader Scholarship works to expand educational access and opportunities while also fostering more international diversity.
Scholarship Deadline:
December 15, 2023, or by January 15, 2024 at the latest.
About University:
The American University (AU or American) is a private federally chartered research university in Washington, D.C. Its main campus spans 90 acres (36 ha) on Ward Circle, mostly in the Spring Valleyneighborhood of Northwest D.C. American University has eight schools and colleges: the School of International Service, College of Arts and Sciences, Kogod School of Business, School of Communication, Professional Studies and Executive Education, School of Public Affairs, School of Education, and the Washington College of Law(WCL). It has over 160 programs, including 71 bachelor's degrees, 87 master's degrees, and 10 doctoral degrees, as well as JD, LLM, and SJD programs. AU's student body numbers over 13,000 and represents all 50 U.S. states and 141 countries; around a fifth of students are international.
Scholarship Details:
Scholarship Eligibility Requirement:
You are a U.S. citizen, U.S. permanent resident, U.S. pending permanent resident, or dual citizen of the U.S. and another country.
You are enrolled in or have already begun any post-secondary studies at another university in your home country or the United States.
You graduated secondary school earlier than 2022.
AU EGLS applicants must apply for regular decisions for fall 2024 (August). Do not apply Early Decision (ED).
Preference will be given to:
International students who have overcome various obstacles and challenges, as well as those from diverse and underrepresented global and socioeconomic backgrounds.
A minimum 3.8 GPA equivalent out of 4.0 GPA (or in the top 10% of graduating classes) for 9th–12th grades
demonstrated commitment to leadership, volunteerism, community service, and advancing the needs of people in their home country.
Students with one of the following:

95+ TOEFL iBT (all subscores must be 20 or above)
Sub-scores of 24+ on the paper-based TOEFL (Taken after May 31, 2017)
7.0+ IELTS (all subscores must be 6.0 or above)
33 minimum SAT Reading subscore
29 minimum ACT English
65 minimum PTE
125+ Duolingo (all subscores must be 115 or above)
Cambridge Assessment English score of 185 or higher. Each sub-score must be 169 or higher.

Students who are still enrolled in secondary or high school and are graduating by June 2024
Important: Students in the IB system should plan to graduate with a full IB diploma with at least 3 HL subjects. Students studying in the British A-Levels system must complete at least 3 A-levels and finish 13 years of study before August 2024.
Scholarship Application Guidelines:
Complete the AU EGLS application on the Future Eagle Portal.
Submit a bank letter confirming a minimum of U.S.$4,000. This can be uploaded via your Future Eagle Portal or sent by fax to +1-202-885-1025. Examples of bank letters
Submit your official TOEFL, IELTS, Duolingo English, PTE, or Cambridge Assessment English Test score results by December 15, 2023, at the latest. Please have official English proficiency score reports sent directly by the testing agency to American University, Undergraduate Admissions, Washington, District of Columbia. Please note: Students cannot submit their own results.
Complete and submit the Common Application or Coalition Application, together with all supporting documents per checklist, by the American University Scholarship priority deadline of December 15, 2023, or by January 15, 2024 at the latest. Please note that the preliminary American University Scholarship application packet must include a bank letter confirming a minimum of US$4,000 (not US$78,296). Students who do not submit a complete application packet with all supporting documents by the deadline will not be reviewed.
If you are applying through a program supported by EducationUSA or if you are a past FLEX or YES high school scholarship recipient from the U.S. Department of State, please provide a letter from your EducationUSA center's adviser confirming your candidacy. You may request for the letter to be sent to levinson@american.edu as a PDF.
If you are not selected as one of the finalists, you may still be considered for admission to American University, Washington, DC, and eligible for partial merit scholarships. However, to continue the application process, you will need to submit proof of funds totaling U.S.$78,296 (estimated costs for the first year of study).
Zoom interviews and/or additional essay submissions will be required for AU EGL semi-finalists and finalists. If you have any questions, please contact intadm@american.edu
Scholarship Benefits:
The American University Scholarship covers all AU expenses (full tuition, room, and board). Who will need a visa (preferably an F-1 or J-1 student visa) to study in the United States?
The American University Scholarship does not cover other expenses such as mandatory health insurance, books, airline tickets, and miscellaneous expenses.