SCHOLARSHIP: Carleton University, Canada Undergraduate Scholarship for African Students 2024 |APPLY NOW|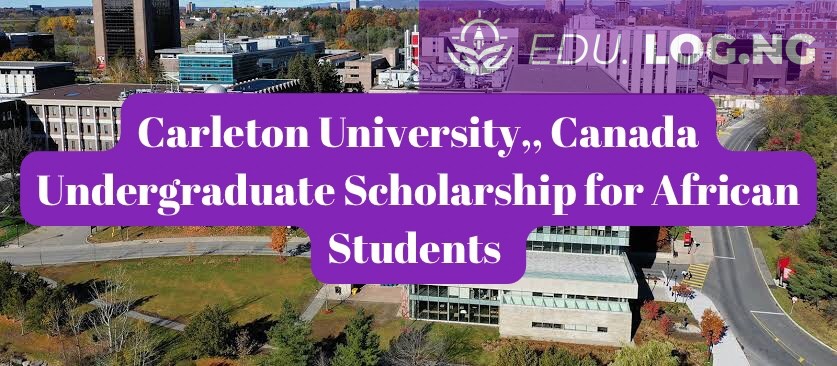 The Carleton University Scholarships by Richard Van Loon offer chances for hands-on learning outside of the classroom or lab. Lab experiments, taking part in research projects, field courses, practica, and co-op jobs are all ways to get experience. This Scholarship is available for African students .
Scholarship Deadline:
1st February 2024
About University:
Carleton University is an English-language public research university in Ottawa, Ontario, Canada. Founded in 1942 as Carleton College, the institution originally operated as a private, non-denominational evening college to serve returning World War II veterans. Carleton was chartered as a university by the provincial government in 1952 through The Carleton University Act, which was then amended in 1957, giving the institution its current name. Carleton is organized into six faculties and with more than 65 degree programs.
Scholarship Details:
Scholarship Eligibility Requirements :
Awarded annually, on the recommendation of the Richard J. Van Loon Scholarship Committee
to an outstanding international student from an African country. Eligible recipients will be
full-time students proceeding from one year to another in any program of study at Carleton
University. Consideration will be given to students in financial need. An application is required. If
If an undergraduate student is selected, the scholarship will be awarded by the Director of
Undergraduate Awards and Financial Aid: if a graduate student is selected, the scholarship
the Dean of the Faculty of Graduate and Postdoctoral Affairs will present. Endowed in
2005 by friends, family and colleagues in honour of Richard J. Van Loon, Carleton's 10th
President.
You must be a citizen of an African country
You must be an international student who is required to have a valid Study Permit for
Canada
You must be currently registered as a full-time student at Carleton University
and be successfully proceeding from one year to another in any program of
study
You must be in good academic standing
Consideration will be given to students in financial need
Application documentation is required. See instructions below
Scholarship Application Guidelines:
All interested candidates must apply through the online application form for this funding program.
The candidates are required to submit the following documents:

Copy of all post-secondary transcripts
A statement of intent
CV/Resume
A portfolio
A sample writing
Citizenship proof

The admission average will be calculated using all nine academic subjects at the highest level taken. Prerequisites must be presented in grades 11 or 12.
Offers will be finalized upon receipt of final grades and an official graduation certificate.
The candidates must fulfill the following English language proficiency requirements:

Canadian Academic English Language Test: 70 (Minimum 60 in each band)
TOEFL: 86 (20 in reading and listening and 22 in speaking and writing)
IELTS: 6.6 ( Minimum 6.0 in each band)
PTE: 60 overall ( Minimum 60 in each Communicative skill)
Please complete all six sections of the application form
Submit with your application a signed recommendation from an academic referee
Submit with your application one proof of citizenship
Acceptable academic referees would include:
Professor who has taught a class you successfully completed
Thesis advisor
Graduate Supervisor
Dean of a Faculty
A Director of a School or Institute
A Chair of a Department or Program