SCHOLARSHIP: Common Documents You Need To Have Before Applying For A Scholarship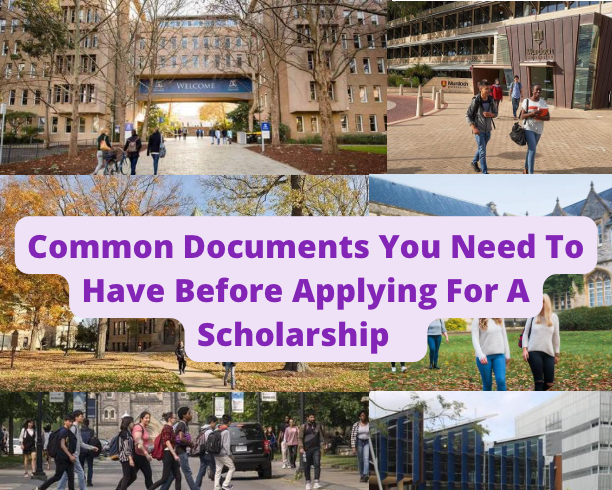 If you are planning to apply for a scholarship abroad, there are common documents you should have in order to make your application hassle free . When you have all these documents intact , all you need to do is find scholarship opportunities and keep sending
in your applications. We have compiled a list of them for you in this article .
Common documents you should have before applying for a scholarship
1. Complete Application Form
This is an important document most or all schools have where you fill out important informations . You should make sure all informations are correct before completing the form and submitting it
2. Valid Copy of Passport/ ID
Only a copy of the passport's main page, which contains your picture and personal information, is required, and it must be valid for at least six months after your departure.
3 . Copies of Educational documents ( Transcripts)
This is another important requirement you must have before applying for a scholarship. This includes your degrees, diploma or transcript which should be attached in chronological order with your application. These documents should have the original stamp and signs of your academic institution authorities .
4. Letter of motivation / Statement of purpose ( SOP)
You should only use one page, or about 400 words, to explain why you applied to the particular degree program and how it connects to your future academic and professional aspirations.
It's crucial to be truthful and avoid exaggeration in this motivational remark or letter.
Additionally, you should briefly describe your strengths and how they relate to the degree you choose.
5 . Letter of recommendation
The majority of the time, just one is required, but occasionally, you may be asked to provide two letters of recommendation. Only one of your lecturers, teachers, employers, or those who oversaw your work should write the recommendation letter(s) (volunteering work counts as well). This letter provides the scholarship provider with additional details about your qualifications, abilities, and mental prowess. It can also reflect your desire or motivation for the degree program and/or university you selected.
6. CV (Curriculum Vitae)/Resume
A CV or Resume is sometimes required before you send out your application . Even if you don't currently have any professional experience, you can still include all of your academic accomplishments, interests, hobbies, and social skills in your scholarship application. Be sure to list all of the languages you are fluent in (including any certificates you may have), but be honest about how well you speak each one. You should also list your computer skills, volunteer experience, and any other courses you've taken, including short ones, especially if they relate to the subject of your study.
7 . Proof of English language proficiency (or other language – the one that is the official language of teaching for the study course you selected)
For English it can be: IELTS, TOEFL, Cambridge
Spanish: DELE
French: DELF or DALF
German: DSH, TestDaF, OSD, telc
8 . Standardized test scores
When deciding which applicants to award the scholarship to, the university may take into account applicants' SAT, ACT, GRE, GPA, and other test scores. High test scores are typically the ones that matter most, but the scholarship offer is evaluated holistically after taking all pertinent documents into account.
The above listed documents are very important and you should have them before applying for scholarships . Other documents you may need are Essay, portfolio , medical report or Parents' financial information, including tax returns.
Before you send all the documents for the scholarship application, make sure you check your application form and other documents for spelling errors or grammatical errors. Don't exceed the word limit for documents you are requested to write . It's recommended that you make a complete copy of the application before you send it . Keep in mind the exact date you have to send all the requested documents and be careful not to miss the deadline. Good luck !
To Join our social media pages or groups for more updates:
Facebook: LOG.NG Educational
Telegram: edulogng