SCHOLARSHIP: Rutgers University, USA Undergraduate Scholarship 2023/2024 |APPLY NOW|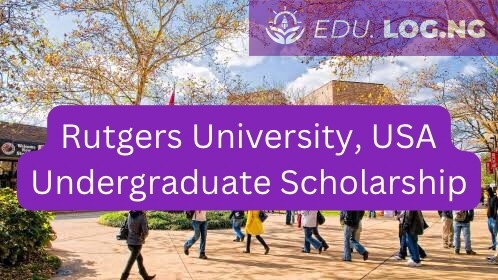 Rutgers University is inviting interested applicants for the Undergraduate International Chancellor's Merit Scholarships . The Rutgers University Scholarship program seeks to assist international students who plan to enroll in the university's undergraduate degree program.
Scholarship Deadline:
Currently Open
About School:
Rutgers University (RU), officially Rutgers, The State University of New Jersey, is a publicland-grantresearch university consisting of four campuses in New Jersey. Chartered in 1766, Rutgers was originally called Queen's College, and was affiliated with the Dutch Reformed Church. It is the eighth-oldest college in the United States, the second-oldest in New Jersey after Princeton University, and one of nine U.S. colonial collegesthat were chartered before the American Revolution. Rutgers is a land-grant, sea-grant, and space-grantuniversity, as well as the largest university in the state. Instruction is offered by 9,000 facultymembers in 175 academic departments to over 45,000 undergraduate students and more than 20,000 graduate and professional students.
Scholarship Details:
Scholarship Eligibility Requirements:
Eligible Countries: Applications are accepted from around the world.
Eligible Courses or Subjects: The Rutgers University Scholarship will be awarded in any subject offered by the university.
Eligibility Criteria: To be eligible for Rutgers University Scholarship, applicants must meet all the given criteria:

non-sponsored, international F-1 visa students (not sponsored by a government agency but who self-pay) and meet University-Camden admission requirements.
Applicants must have a GPA ranging from 3.2 to 4.
Scholarship Application Guidelines:
How to Apply: To be enlisted in the program, aspirants must enroll in the undergraduate degree program at the university.
Supporting Documents: A first-year applicant may be a current high school student or an adult who has taken 12 or fewer college credits.
Admission Requirements: Aspirants must hold a previous degree certificate with relevant marks.
Language Requirement: English language proficiency is required if your secondary education was completed in a country where English is not the primary language, regardless of U.S. residency status.
Scholarship Benefits:
Each successful scholar will receive an award amount of up to $15,000 to cover their educational expenses at Rutgers University in the USA.