Trinity Western University, Canada Scholarship Without IELTS 2023/2024 |APPLY NOW|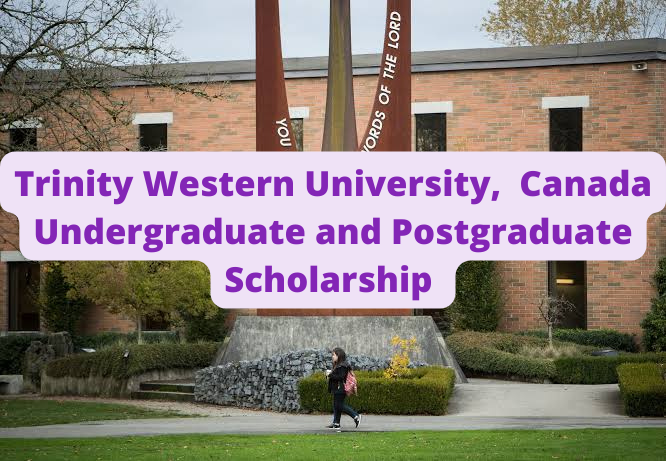 Trinity Western University is inviting interested applicants for their Scholarship for the year 2023/2024 . This application requires no IELTS, interested candidates must be proficient in speaking and writing English . Non English speaking countries are required to abide by the English language requirement , The Scholarship is available to all international students of all disciplines and degrees. The scholarship is partially and fully funded ,Interested applicants can apply before the deadline.
Scholarship Deadline:
15th February 2023
About School:
Trinity Western is Canada's largest privately funded Christian university with a broad-based liberal arts, sciences, and professional studies curriculum, offering 45 undergraduate majors and 17 graduate and post-graduate programs.
Scholarship Application Fee:
CAD$150
Interested applicants are to pay a non refundable application fee as admission application charges
Scholarship Details:
University or Organization: Trinity Western University
Department: NA
Course level : Undergraduate , Masters and Postgraduate
Award: Partially and Fully Funded
Number of Awards: NA
Access Mode: Online
Nationality: International
Scholarship Available Courses:
The following are available courses that you can apply to at Trinity Western University .
Education
Applied Sciences
Business Administration
MBA
Linguistics
Counseling Psychology
Health Sciences
Nursing
Arts
Media
Culture
Humanities
Social Sciences
Sociology
Geography
Environment Studies
Human Services
Political Sciences
Philosophy
Leadership
Scholarship Offered by TWU:
President's Scholarships
Dean's Scholarships
Musical Arts Scholarships
Athletic Scholarships
EMBA Entrance Scholarships
Women in Business Scholarships
Jay Kehler Memorial Scholarships
President's Scholarship:
First, we have the internal scholarship of TWU for undergraduate students with high academic standing and
their contribution to TWU. Winners of the President's Scholarship will get $4,800 to $6,000 and a 100% tuition
fee exemption.
Dean's Scholarship:
Next is Deans' Scholarships for UG students with a GPA of 2.80 – 3.49 and good academic results. However,
the scholarship reward for Dean's scholarship is $1,600 to $2,000.
Musical Arts Scholarship:
It is a limited scholarship for new and transfer students having a talent and passion for music, piano, and
other instruments. Selected candidates will get a reward from the department of Music worth $3,000.
However, eligible students must be doing a Bachelor of Arts degree with a 3.0 GPA from TWU
Athletic Scholarship:

The amount for the Athletic scholarship program varies and will be granted by the TWU Athletics department.
However, the financial award and selection of candidates are based on the average admission score. The
minimum score requirement to become eligible for an Athletic scholarship is 80%.
EMBA Entrance Scholarship:
EMBA is a graduate scholarship award for candidates pursuing a degree in Business Administration from
TWU. Meanwhile, a scholarship will be granted considering managerial skills and performance in admission
tests. However, the worth of this scholarship is $10,000.
Women in Business Scholarship:
Women enrolled in the MBA or EMBA program at TWU have the opportunity to get free education via this
amazing scholarship program. Also, the amount for the scholarship ranges from $5,000 to %10,000.
Jay Kehler Memorial Scholarship:
Graduates completing a degree in Counselling Psychology and involved with Christian ministry are eligible for
this scholarship. However, individuals applying for this scholarship must show financial need and have a GPA
of 3.0.
Other TWU Scholarships:
Following is the list of some other generous scholarships by Trinity Western University:
Hollister Work Fund Scholarship
Canada Graduate Scholarship Program
TWU Alumni Nursing Scholarship
Endowed Scholarships
MABSCT Scholarships
MAIH Scholarships
SSHRC Graduate Fellowships
How to Apply:
The online application process for TWU admission is very simple and consists of three main steps. In the first
step, applicants are bound to visit the UT1 site of TWU to get all the information about the application
process. Next, make an applicant account, and fill out the application form with supporting documents and
application fees. Then, in step three, submit your online application to the official site of TWU and wait for the
results.
However, for scholarships, send a separate application if needed.
Scholarship Documents:
Candidates who are eager to apply for the TWU scholarships must submit the following documents in the required format
Filled Application Form
Legal Confirmation
Academic Proofs
High School/ University Transcripts
English Language Scores
Reference Letter 2
CV
Acceptance Letter
Letter of Motivation with a study plan essay or research proposal